Roll over image to zoom in
Click to open expanded view
Kerala Ayurveda Myaxyl Oil – 200 ml (Pack of 2)
₹860.00
Reduced occurrence of swellings
Swellings can be easily reduced.
Long-term joint pain and stiffness relief
Pain relief from spasms
Knee pain and sprains are alleviated.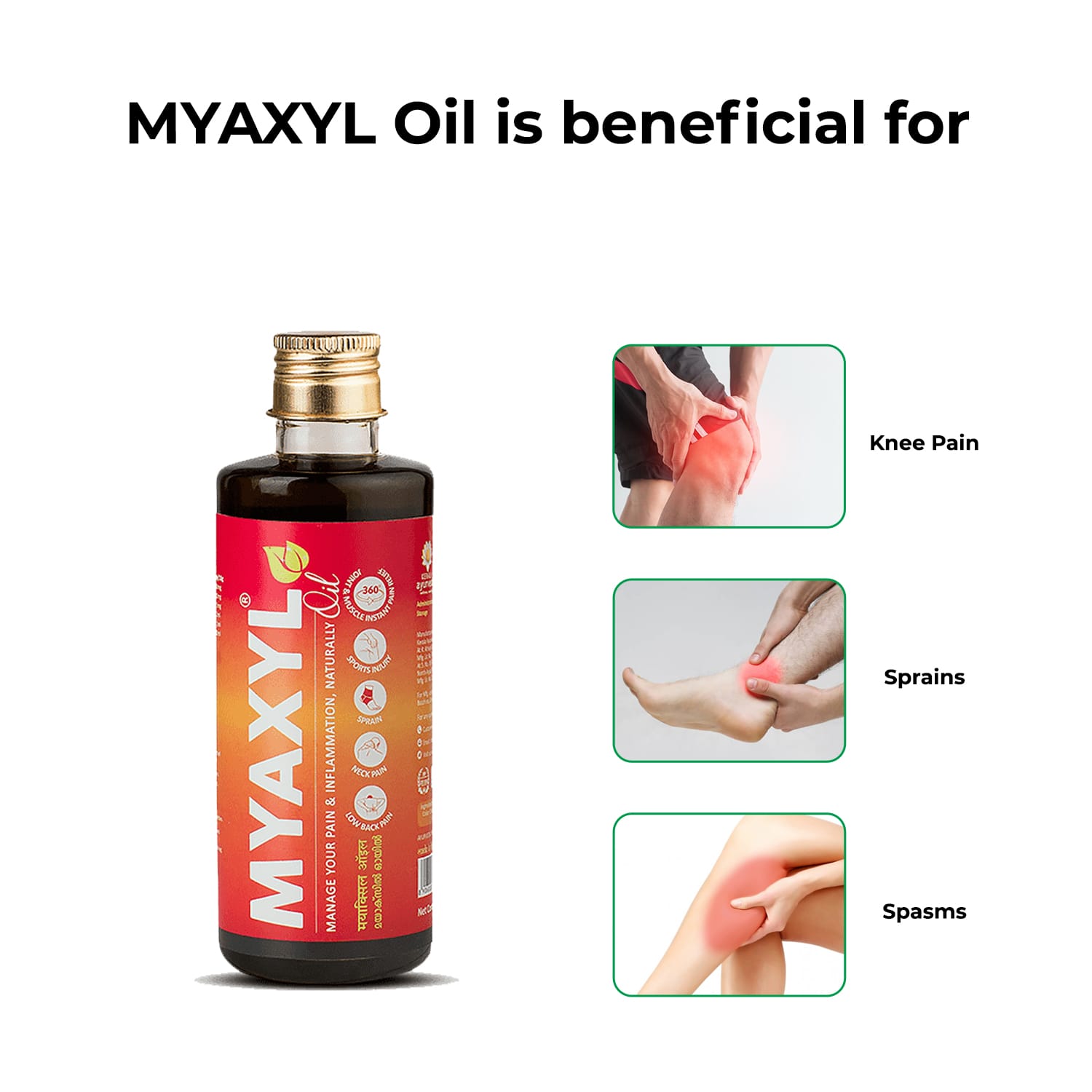 Are you fed up with dealing with knee pain? Have spasms, sprains, and sore muscles been interfering with your daily activities? While these concerns may not appear to be significant at first, if left unaddressed, they may become common occurrences, impeding your daily life.
Myaxyl Oil from Kerala Ayurveda is an Ayurvedic solution for managing and reducing knee pain, muscle soreness, and improving sports injuries. Myaxyl Oil is a sprain, spasm, and knee pain relief oil that contains herbs such as Nandi Vriksha (crepe jasmine), Devadaru (deodar), Rasna (Lesser galangal), Lemongrass oil, Eucalyptus oil, and Tila tel (sesame oil).
Ingredient
Nandi Vriksha
Devadaru
Rasna
Lemongrass Oil
Eucalyptus Oil
Tila Tel
Dosage:
In a bowl, combine the required amount of Kerala Ayurveda Myaxyl oil. Because myaxyl oil contains natural warming ingredients such as eucalyptus oil, it does not need to be heated. Sit comfortably on a non-slippery surface and gently apply to affected areas. Massage gently and allow your skin to absorb the benefits of Myaxyl oil. Allow the oil to absorb into your skin for about 30 minutes. Because it absorbs quickly, you can leave it on or wash it off with warm water and pat dry.