Aloe Vera Magical Remedy For Many Problems
When I say Aloe Vera, I can feel the vastness of the subject. Today I would like to share my views over certain important aspects.
HOW IS IT OBTAINED?
Aloe Vera is a succulent plant species of the genus Aloe. It originates from the Arabian Peninsula.
It can easily grow in tropical and arid climates around the world.
Mostly it grows wild where it can get little sunlight and little water consuming plant.
One can easily grow it in a mud pot too and when it start to spread it can be replanted into the additional pots too.
When growing in a pot it requires well-drained, sandy potting soil and a bright, sunny aspect.
GENERAL EFFECTIVENESS OF ALOE VERA:-
Major use of Aloe Vera is treating the skin problems.
Aloe latex is used as a cooling agent for skin disorders such as psoriasis, acne or rashes.
When applied to burns it works effectively and helps the skin to get healthy without leaving any marks.
Aloe Vera is also commonly added to many of our shampoos, cosmetics and many other health items we buy in the name of natural products.
Many people use it as a natural anima.
A limited amount of it can be safely taken orally on an empty stomach (see below).
WHAT CARE ONE SHOULD TAKE WHILE USING ALOE VERA:-
When you cut it fresh it extracts yellow colored liquid; one should never use it.
After cutting it, it should be washed well in running water and left to stand for a while with the cut you made exposed. The yellow liquid should drain away with the water.
Now for oral consumption one should only consume 10 to 15 ml of the transparent gel mixing it together with some amount of water (see side effects below).
While applying to the skin if you mix it with lemon it is more effective.
One should try to avoid the outer layer that is mostly green or greyish green and only use the middle part.
MAJOR SIDE EFFECTS:-
As we all know that each person's body is different and everything is not fruitful for everyone. So one should always begin with a small experiment to test your sensitivity to the new ingredient.
For some people one major side effect of Aloe Vera is that it can give severe stomach cramps when taken orally. In such a case you should either reduce the amount you take and give it another try or discontinue altogether.
One other major side effects is that it can lead to diarrhea and then too one should stop consuming it.
Until now no side effects have been noted when it is applied externally.
Today we will introduce you few of the effective methods and uses of raw Aloe Vera or Aloe Vera gel.
ALOE VERA FOR THE DRY SKIN:-
What you need is:
Fresh aloe Vera/gel- 3 tbsp.
¾ Lemon- the juice
Olive oil or sesame oil- 2 tsp.
Put all the ingredients in a mixy and grind them well.
Now just after a shower when your skin is little damp apply it to all over your body.
Massage it so your skin absorbs it.
Fruitfulness:-
This mixture will help to keep your skin moist for a longer period of time.
You will remain chemical free and anti-toxic.
It will help the skin to generate natural cells which may also reduce the dryness.
ALOE VERA FOR NORMAL TO OILY SKIN:-
You need to take:
Aloe Vera gel- 2 tbsp.
Coconut oil- 1 tsp
Lemon a few drops.
Mix all the ingredients together and apply it to the major exposed parts of your body.
There is no harm in applying it to the full body as well.
Fruitfulness:-
This mixture will help you to get rid of mast of the cosmetics firstly.
Secondly you will find your skin in a very short time quite clear and healthy.
This mixture is also helpful in lightening your spots and dark skin.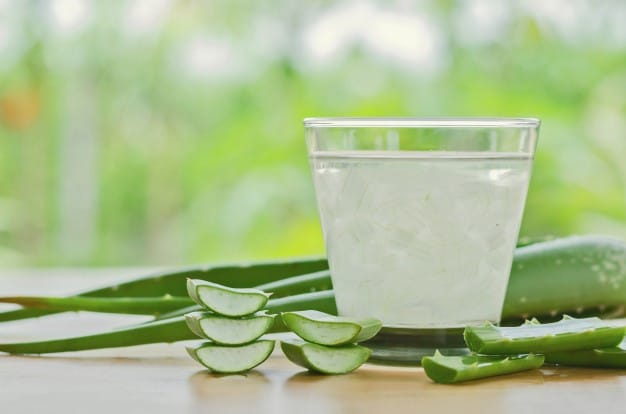 ALOE VERA IS THE BOON FOR OUR STOMACH:
When taken orally in a certain amount it helps to boost up our immunity, helps in digestion and very much helpful in curing the problems of constipation.
Following mix will help you and it is quite effective as we ourselves are experimenting it:-
You need to have:-
Fresh aloe Vera gel- 1 tbsp.
Water-200 ml
Any seasonal fruit- 1 (peal & cut)
Lemon/Amla (juice) – 1tsp (optional)
Firstly nicely grind the cut fruit and fresh Aloe Vera in your grinder,
Then add water, lemon and honey and grind it again. Your health drink is ready to consume.
You can take it on an empty stomach or in the gap of 4 hours between your previous meal.
Benefits:-
The way our body is made it is always best to provide it with seasonal fruits.
Because, like the whole universe, our body also goes through the change of seasons.
Seasonal fruits are nourishing to the body and one must consume them.
This drink will help you to stay vital particularly if you take it in the morning.
It is a complete food in itself so you can remain without any other intake for few hours without starving.
This mix will be helpful to reduce any excess fat in the body. (The amount should make twice and take only one meal a day)
Overall it is quite soothing and tasty way to consume Aloe Vera.
ALOE VERA FOR ALL TYPES OF HAIR:-
Must try this mix:-
Aloe Vera gel- 2 to 3 tbsp.
Honey – 1 tsp
Olive oil (virgin) – 1 tsp
Curd- 1 tsp
Grind all the mixture in your jar.
Apply this mixture to your hair when dry, as well as your scalp.
Allow it to stay for at least one hour.
Now rinse your hair with lukewarm water. No shampoo should be used.
Fruitfulness:
This is very helpful for natural conditioning of your hair and as well nourishes your scalp.
There are NO side effects.
It helps to fight against dandruff.
ABOUT PARTH THAKER
EXPLORING FOOD AND WRITING OVER IT IS MY PASSION. CERTIFIED NUTRITION CONSULTANT AND SPORTS NUTRITION CONSULTANT. FOR MORE INFORMATION AND FOR CUSTOMIZED DIET PLANS CONTACT US.
EMAIL- parththaker7@gmail.com
Read my other articles at:
ABOUT POONAM THAKER
FOOD Enthusiast. Love and passion for making and exploring food. For me food is Medicine and I am here to share my joy and love. Life is multidimensional Approach.